| | |
| --- | --- |
| DefBird's Garden! | |
Gardeners are born optimists! To plant the seed, the seedling, the sapling is to witness to our being there to see it grow, to our certainty that it will grow. If not this time, then next time. Gardeners are always looking to the future. As the birds lay their eggs, the gardener tills his soil and plants his crops. Enjoy your visit to my garden.

---


Hop on over and visit in DefBird's own garden.
...or take a virtual tour of...

Gardens I have visited!
| | |
| --- | --- |
| | I always enjoy a visit to Weston Gardens . This is a family enterprise in my home town of Fort Worth. They are restoring an old estate garden that was allowed to deteriorate. They also have a nursery that sells native plants and a gift shop with beautiful things for the garden and the gardener. This beautiful plant is growing in their garden. I call the ones growing in my garden "Rose of Sharon" but, it has many names. In their garden it is named Rosemallow. It is in the Hibuscus family. |
This lovely scene is in the gardens of Winterthur.
It is a country estate that was home to H. F. DuPont
and is now a Museum. It is in Delaware and I was privileged to tour this estate while traveling
in the area.



This is the fern house at the

Montreal Botanical Gardens

.

I spent a few hours here once. It is impossible to see all the wonderful things in these gardens in just a few hours.




While in Seattle, I took a ferry to Victoria and toured
the Butchart Gardens. Being able to spend time in beautiful
gardens is one of the great pleasures of traveling. Take a virtual tour.



On my visit to Australia, I got to spend most of a day

in the

Royal Botanic Gardens

in Sydney.

They are so awe inspiring.

Gardens I hope to visit sometime!

This is the Palm House at the Royal Botanic Gardens, Kew. In the foreground is a Dali sculpture.

Gardening may not have originated in England, but, they sure are the ones who raised it to an art form.


I just hope I live long enough to make it to England and
get to visit the Kew Gardens and some of the other
famous English gardens and historic homes.
It is one of my dreams.








Here is a specimen from the

Royal Botanic Gardens, Canada

.

I think it would be fun to visit this place in winter. They have a

winter scene on their web site, all snow and ice.

Some winters, I don't even see any snow.



I expect I will get to visit the

San Antonio Botanic Garden

since it is in Texas and that is the state in which I live. This is a

beautiful city and one that is considered a "destination" city

The garden looks especially nice!



I plan to visit the West Coast and San Francisco in the

Fall of 2003. If all goes as planned, maybe I will be

able to see the

Strybing Botanical Gardens

while I am there.


There are so many seed companies. How can we ever choose? I guess that is why I just stay with what I have always used.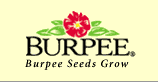 They truly do! I have used them for years. Their catalog is super. Their logo is cute. And, with a name like that one,
you have to be good!
Visit their cool web site:
http://www.garden.com/main.asp


"The kiss of the sun for pardon,
the song of the bird for mirth.
One is nearer God's heart in a garden
Than any place else on earth."

Texas Bluebonnets!
| | | |
| --- | --- | --- |
| | It wouldn't be a very good garden without some cats... | |

...and a dog to chase them!
Save a place for pets in your garden and come back to visit with me in mine as often as you can.
"A garden is a lovesome thing, God wot..."
Happy gardening...
If you have visited any beautiful and/or famous gardens, post to me and tell me about them.
Send a URL if you have one. If I get some, I will make a section for recommended sites.
E-mail:DefBird!